Olympic Hero and Part Owner Kevin Martin Spends Time at Desert Dunes
Fresh off his Gold Medal performance at the Vancouver Olympics, Kevin Martin of the Canadian Curling team visited Desert Dunes Golf Club to sign autographs and take pictures with his many fans and admirers. Mr. Martin, who is part of the ownership group that recently acquired the golf course, is excited to share his success with all his friends and fans in the Coachella Valley. He is also excited about the future of the course and plans to be involved for many years to come.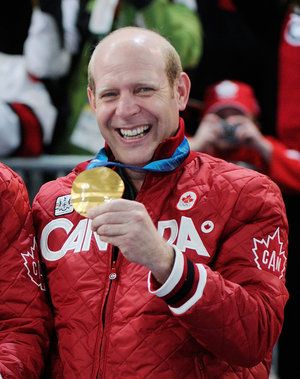 A resident of Edmonton, Mr. Martin is a four-time Brier champion, has been to three Olympic Games and is the Gold Medal winner in the 2010 Winter Games. He is a former World Champion and has won eleven Grand Slam titles on the World Curling Tour. Over the course of his career, his teams have won around $2 million. He was the first skip to win a "career Grand Slam"—winning a title in each Grand Slam event. He did this after winning Players' Championships Grand Slam event in April, 2005. He is the current Brier champion skip, and was the skip for the gold medal winning Canadian team at the 2010 Winter Olympics. For more information on Mr. Martin's career please visit his website at
www.teamkevinmartin.com
.